As we're gearing up for Black Friday, let's not forget that only a few days after the mega shopping event, there is Cyber Monday, admittedly an even bigger affair for tech lovers. You should be so lucky, as Withings' Black Friday sale is actually both events rolled into one and includes deep discounts on wearables, smart scales and more!
One of the most criminally underrated wearables, the Withings ScanWatch is a worthy successor of the Steel HR and tracks ECG and sleep disturbance sensors on the wrist – no wonder it sits right at the top of T3's best hybrid smartwatch guide. Check out the link to the deal below, as well as a bunch of other deals that might be worth your attention if you're in the market for smart tech: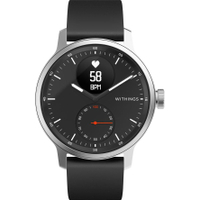 Withings Scanwatch: was £279.95, now £204.36 at Amazon UK
The Withings Scanwatch is a beautiful hybrid smartwatch packed with health sensors and features that cater to modern smartwatch owners' needs. It can provide some exciting insights into sleep and heart health in general. Now 27% off for Black Friday – don't miss out!
Most of the above wearable and smart home deals are available both at Amazon and Withings. However, a few offers are only available on Withings's website, such as this 25% off Sleep deal (Bundle of 2) and 20% off the Body Comp (black and white screen). In addition, there's a BOGOF (Buy one get one free) deal on wristbands for the hybrid smartwatches.