Walmart Plus (stylized Walmart+), is Walmart's subscription service that offers a range of benefits across its products. Considered an Amazon Prime competitor, it includes free delivery, discounts on Rx and fuel and most importantly, early access to Black Friday deals.
Walmart+ members can get access to its Black Friday deals up to four hours before everyone else. This means that those stand-out deals are yours for the taking. It even includes access to restocks, such as the much sought-after Sony PlayStation 5.
Walmart+ costs just $12.95/month (or $98 per year if you prefer), which you can easily make back with a couple of good sale purchases. And right now you can get a Walmart+ 15-day free trial – though this won't give you the Black Friday and restock access until you pay.
Janey Whiteside, Walmart's chief customer officer has described Walmart+ like this:
"We are launching it to meet the needs of our customers and it really was designed to make their busy lives easier. We think that it offers a comprehensive suite of in-store and online benefits that help people save time and money across a variety of areas."
Walmart Plus price
The Walmart Plus price is $98 per year when paid annually, which is $2 per week.
You can also pick up Walmart Plus on a paid-each-month plan, too, but that is $12.95 per month and delivers notably less value.
That $98 price is $20 cheaper than Amazon Prime, which costs $119. However, the Walmart Plus subscription does not include any sort of entertainment service like Prime Video.
Walmart Plus launch date
The Walmart Plus launch date was 15 September, 2020. Walmart+ is now live and can be signed up for today.
Walmart Plus perks
Walmart Plus delivers three main perks for its subscribers: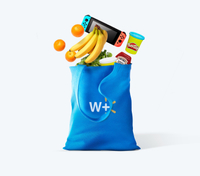 Free unlimited delivery
The first Walmart Plus perk is free unlimited delivery on any order over $35. This includes both gadgets and groceries, and stretches down from same-day delivery to two-day delivery, depending on the items ordered. Walmart Plus members also get one-hour delivery windows, meaning that you don't have to wait in all day for your order.
Walmart Plus deals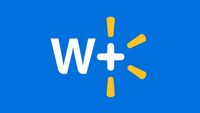 Walmart Plus | $98 per year | Available now
The best value deal available today on Walmart Plus is to pick up the service on a year subscription. This costs $98 (that's $2 per week) and grants you full access to Walmart+'s unlimited delivery, discounted fuel, and scan & go perks.
Walmart Plus: What is it?
Simply put, Walmart Plus is a new subscription service that will offer free same-day and next-day delivery of groceries and various other products sold at Walmart. It is Walmart's competitor service to Amazon Prime, and intends to reward its subscribers with exclusive deals and perks.
Right now Walmart Plus leans heavily towards the groceries and essentials market, rather than store-wide merchandise, however plenty of gadgets and electronics are also eligible, too.
The initial focus on groceries appears to come from the fact that Walmart Plus appears to be a rebranding of the store's Grocery Unlimited Service, which launched last year.
Walmart Plus: Future features
Walmart reportedly wants to expand its Walmart+ offering in the future to include even more perks.
Other reported features include the ability to place orders by text message, bagging discounts on prescription drugs and, while unconfirmed, there is also talk that Walmart will strike deals that will allow Walmart Plus subscribers free access to films and TV shows.
Naturally, as with Amazon Prime, Walmart Plus looks set to also grant subscribers priority timed access to many deals during big holiday sales like Black Friday. Before regular customers can ring up the deal, Walmart Plus members should be able to bag them in advance.
Walmart Plus: Better than Amazon Prime?
For many people this will be the most important aspect of Walmart Plus – is it better than Amazon Prime? Only a very small portion of the general public will be able to ring up two retail subscription services (certainly on an annual basis) and, really, there would be so much cross-over in the service delivered that it wouldn't be very cost effective at all.
So, can Walmart Plus compete with Amazon Prime? Right now there are more than 150 million Prime subscribers worldwide, which is something that has helped Amazon scoop up a whopping 38% of all online retail sales. In comparison, right now Walmart only accounts for 5% off all online sales, and that is despite its colossal bricks-and-mortar presence.
Right now, in T3's opinion, Walmart Plus is a commonsense upgrade for anyone who already shops at Walmart. It will make your shopping at Walmart easier and cheaper over the course of a year, and will also save you money on fuel, too.
For those people who don't normally shop at Walmart then the decision to upgrade is less clear cut, and for those who already have Amazon Prime, the choice even harder to make.
For some shoppers, the lack of bundle entertainment in the Walmart Plus package will cause pause for thought, too, and especially if they are coming off a Prime sub. That said, many Walmart customers will already be signed up to Netflix or Disney+, so maybe this won't be a feature they would miss.
Want to see what sorts of items you could be getting delivered free with Walmart Plus? Then shop all of Walmart's best deals, which come with free 2-day delivery, right now.
Editor's Recommendations
We at T3 want to help you find the best deals on your favorite products. For more news, reviews, and great deals – as well as helpful buying guides – check out the articles below:
Head on over to our Amazon Prime Day 2020 hub, too! You'll find all the best deals at Amazon happening right now PLUS early Prime Day deals you can jump on right now.
Be sure to also check out T3's Black Friday deals hub as well! We'll be following the biggest sale event of the year closely, with updates on start times, best deals, what to expect, and more!
Last but not least, you can also take a look at our Cyber Monday deals guide to get an early start on the biggest online shopping day of the year! Learn where to look for the best deals, what to watch out for, and more!