As Amazon Prime Day begins to wrap up – its doors closed at midnight tonight, Wednesday 12th July – I'm frankly still in a state of shock that this mega-discounted Sony PlayStation 5 and God of War Ragnarok bundle is still available to buy.
Why? Because it's available for less than Sony's console alone, in the Prime Day deal that's up there with the best the T3 team has seen in 2023. That's been clear with it featuring prominently in T3's Best Amazon Prime Day Deals (take a look, there are heaps of top buys in there), and Best Prime Day Gaming Deals features.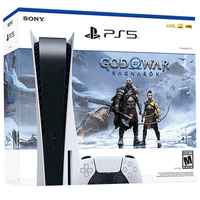 PS5 with GoW Ragnarok bundle: was £539.99, now £453.99 on Amazon
That's right, the 5-star PlayStation 5 bundled with the 5-star God of War: Ragnarok in one package makes this a clear 5-star bundle. That it's cheaper than buying the console outright makes it a star deal for Amazon Prime Day 2023. A great 16% discount and a great buy for any gaming fan.
In the past I've seen sales bundles with games that are less well-regarded as a means to shift stock, but this Amazon Prime Day bundle takes the cake. Ragnarok is widely regarded as one of Sony's top-of-the-line exclusive games, as T3 touched upon in its God of War sequel review, saying: "Ragnarok offers a thrilling conclusion for Kratos and Atreus, levelling up everything that its predecessor presented, for what is arguably the greatest one-two punch in video game history."
And as a long-time PlayStation 5 owner myself, I could go on at length about how great the console is. Whether it's the likes of Sackboy: A Big Adventure's joyful ways (that's also on offer), there's a bit of something for every type of gamer to play – and I've rounded up 5 Best PS5 Games Deals in a separate feature if you're looking for additional gaming bargains.
So there you have it: an amazing console and gaming bundle for Amazon Prime Day that, if you've been thinking about buying and already knew about it, then I'd consider pulling that credit card trigger before the day is done. Because, in theory, that's when the sale price will also be pulled...