It took a while for Sony to unlock the feature, but ever since it enabled the ability to add extra SSD storage to the PlayStation 5, it made it the console to beat.
That's because you could snag yourself an M.2 SSD card up to 4TB in size and greatly expand the amount of space to install PS5 games onto. There was only one issue - the cards tended to be pricey.
That's why this Amazon Prime Day has been a godsend. There are plenty of great compatible SSD card deals from several manufacturers, and this particular one caught my eye so much I went and bought one myself.
The Samsung 980 Pro with heatsink is a great PCIe 4.0 NVMe SSD card and is completely compatible with the PS5. And, the 2TB version is now just £117.37 - 27% off the usual price.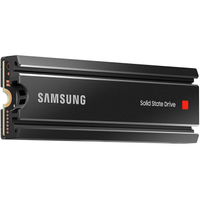 Samsung 980 Pro 2TB SSD with heatsink: was £160.70, now £117.37 at Amazon
The Samsung 980 Pro M.2 SSD card is PS5-compatible thanks to its 7,000 MB/s read speeds. It also comes with a heatsink - a vital element - and is easy to install into the console.
Why did I choose the Samsung 980 Pro SSD?
I've been searching for a decent 2TB SSD card for my PlayStation 5 for a while, but they tended to be beyond my budget - at least, the ones I trust anyway.
But, the Samsung 980 Pro has been recommended by friends before and, for this amount of extra storage, I decided to take the plunge this Prime Day as it's one of the best gaming deals.
When choosing an SSD card for the PS5, you need to keep a few things in mind. As well as compatibility - it needs to be a PCIe Gen 4 M.2 NVMe SSD card to fit in the dedicated slot underneath the console's faceplate. It also needs a heatsink for heat dissipation, otherwise the storage can get too hot and cease to function correctly.
Sony recommends a card with a minimum data transfer speed of 5,500 MB/s, so the Samsung 980 Pro is ideal as its read speeds are much higher - 7,000 MB/s. Indeed, it's even faster than the internal storage inside the console.
You can add SSD storage from 250GB to 4TB in size, so 2TB is an ideal mid-point and, if you consider that an average PS5 game is around 35GB in size, it allows for more than 50 extra games to be installed. The internal PS5 SSD has about 667GB of space available to the user, so can only store around 18 games in total.
Remember, you will need to be a Prime member to make use of the deal. It's free for new subscribers for 30-days though, so well worth signing up to.