With Amazon Prime Day winding down, you might have thought all of the good deals were done. You'd have been wrong though. Amazon have just pulled a sweet deal out of their back pocket – but you'll have to be quick if you want to get one.
The Razer Kraken V3 Hypersense is a gaming headset which earned a five-star review when we tested it. And now, it's half price in the Amazon sale – but it's a Lightning deal so when it's gone, it's gone!
Pick up the Razer Kraken V3 HyperSense for just £64.99 at Amazon – that's half price!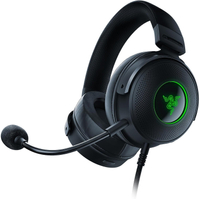 Razer Kraken V3 HyperSense: was £129.99, now £64.99 at Amazon
This Razer Kraken V3 HyperSense gaming headset is half price right now! But act fast – it's on a Lightning deal, so when it's gone, it's gone.
That's a great price for a top gaming headset. The HyperSense uses touch-sensory feedback to create a heightened immersion when gaming.
That's a really cool feature, which gives you the feeling of really being in the game. Bullets flying past your shoulder? Sure. Explosions sending you flying? You bet. Or, as our reviewer tested, "stick on some drum and bass music to get transported."
The audio quality is fantastic here, with a 50mm titanium driver delivering all of the sonic goodness. You'll also find passive noise cancellation built-in, which should be more than enough to keep out any distractions.
These were already a thoroughly attractive proposition at the retail price. But now, with half off at Amazon, this is a real no brainer. Whether you're a hardcore gamer, or a casual looking for a more immersive experience, this isn't a lot to spend to get a really fantastic audio experience.
Be quick though – in the time it took me to write this it went from 1% to 7% claimed, and I can see that rise continuing! Once they're gone, they're gone.