You read that headline right. If you're hoping to get the Xbox Series S on sale this holiday season, there are plenty of places offering a deal on it. However, the best deal on the Xbox Series S isn't at Best Buy or Amazon.
In fact, it's at Verizon! And they are offering the cheapest Xbox Series S price we've seen all year, selling the digital-only version of the console for a staggeringly cheap $229.99 – a full $80 off the standard retail price.
Check out Verizon's Xbox Series S deal here
The Xbox Series S, which offers a disc-less version of the popular Xbox console, offers all of great features of it's counterparts albeit at a cheaper price point. It's more compact, can still play games at 1440p and 120 FPS, and features expandable storage solutions, however no disc drive is installed making it purely digital.
That probably won't matter to most, as physical discs are a burden to some and a collectors item to others. However, the Xbox Series S is getting upgrades that make the digital-only model even more enticing such as the xScreen add-on for on-the-go playability.
For comparison, Amazon currently has the Xbox Series S for $269.99– $60 more than what Verizon is selling it at. While not a bad deal, Amazon is only offering a 10% discount on the console, so if you're hoping to grab one this year Verizon's deal is the best way to do it.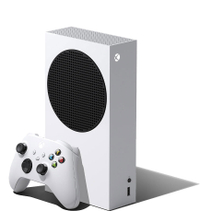 Xbox Series S (White): was $299.99, now $229.99
Grab the digital-only version of Microsoft's latest console, the Xbox Series S, at it's cheapest price ever at Verizon right now. The deal is only available until the end of the year, so take advantage of this one now before it's gone forever!
Is the Xbox Series S worth it?
From a price perspective, the Xbox Series S is more than worth it. It's a much more affordable version of the console, and while there's no disc drive installed for most players out there that won't matter.
The only suggestion we'd have is to upgrade the internal storage at some point. The initial 364GB may be a bit small for most players, as only a few games will take that space up fairly quickly.
However, there's plenty of options out there to go with to up. There's a great selection of Seagate Expansion Cards specifically for the Xbox Series S and Series X that are worth the investment for this.