The best Black Friday deals are coming up at the end of November, but select retailers are already lowering their prices early to help shoppers save extra money on their purchases. If you're on the hunt for a SAD lamp to combat symptoms associated with seasonal affective disorder, I've just found a brilliant deal on the Lumie Vitamin L.
In this early Black Friday deal, the Lumie Vitamin L (one of the best SAD lamps on the market today) is now 30% off at Amazon.
Originally priced at £99, the Lumie Vitamin L is now £68.99 ahead of the UK Black Friday sales. This slim light box offers premium and effective light therapy and is a must if you experience SAD throughout the colder darker months of the year.
SAD or seasonal affective disorder is a form of depression with a seasonal pattern, where symptoms begin in autumn, peak in winter and ease in spring. There are many signs you might be suffering from SAD like being unable to focus, feeling low and losing pleasure in activities, and a recommended way to combat these feelings is by using a light therapy device, like the Lumie Vitamin L.
The Lumie Vitamin L is a medically certified light therapy solution with a large panel that's designed to improve your mood, concentration and energy levels. Measuring 20 x 28cm, the Lumie Vitamin L can be used horizontally or vertically, and is easy to take with you anywhere for SAD light therapy on the go. See our Lumie Vitamin L review for more details.
To view the Lumie Vitamin L deal, click the link above or head over to Amazon to find more deals on Lumie wake up lights and light therapy devices.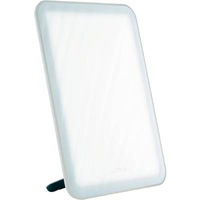 Lumie Vitamin L: was £99, now £68.99 at Amazon
Get 30% off the Lumie Vitamin L in this early Black Friday deal at Amazon. This slim light box produces 10,000 lux at 20cm to combat SAD symptoms and the winter blues. It has a cool white LED and rippled diffuser to deliver softer light that's more calmer, comfortable and a nicer experience overall.
Another brilliant early Black Friday deal from Lumie is the Lumie Halo. Rated the best premium SAD lamp in our 5-star Lumie Halo review, this light therapy device uses warm-white LEDs that you can adjust to suit your brightness and colour temperature needs… and it's now under £180 at Amazon.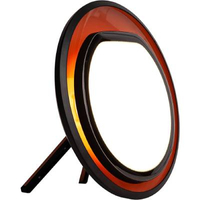 Lumie Halo: was £219, now £179.99 at Amazon
Get 18% off the Lumie Halo at Amazon. This versatile and lightweight SAD lamp simulates sunlight to improve your mood and energy, and helps regulate your sleep/wake cycle. It can be easily adjusted and has an evening mode that emits reduced blue-light so it won't affect your sleep quality or quantity.
If you think you could benefit from light therapy, check out our guide on how to use a SAD lamp.