I've been lucky enough to review some of the best OLED TVs in 2023 – and of the lot it's the LG G3 OLED that's impressed me the most so far. It's a really impressive traditional OLED telly that will even challenge the Samsung S95C QD-OLED competition.
And I've got some particularly great news if you're looking to buy LG's champion OLED TV this year: the Korean giant is offering a tidy price cut already, with a cashback offer that could net you up to £500 off the original asking price.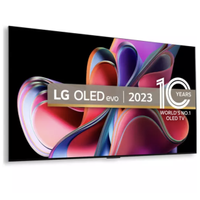 LG G3 OLED 65-inch: was £3,499, now £3,199 at LG.com
This discount lasts from 26 April through to 23 May 2023, so don't miss your chance to snap up LG's best-of-best OLED TV for 2023 and get your £300 cashback.
That's a good job, too, as one of my main criticisms of the LG G3 OLED in my review was that it's rather pricey – especially when you consider the year-older, but also excellent (albeit less bright), LG G2 OLED, is that much cheaper already.
There's even more money off the 77-inch G3 OLED, with £500 cashback taking that model from £4,999 to £4,499. Or if those two sets size options are simply too big for your needs then the 55-inch G3 OLED is cut from £2,599 to £2,399.
I genuinely think the LG G3 OLED is one of the best TVs in 2023, so if you're looking for a wall-mount option to grace your living room this year then this timely offer is well worth considering. It's in place until 23 May – and I'd suggest checking out LG's full cashback page, as there are other discounts on fridge-freezers, monitors and more great products too.