If you've just found yourself a Player 2, have experienced the dreaded stick drift or had a friend "borrow" your controller for months, now is a great time to invest in a new DualSense 5 controller. Why? Because they're on sale at Amazon.
In fact, the controller's sale price on Amazon right is just $49.00, that's the joint-lowest it has ever been for Sony's official PS5 controller and 30% off the usual $69.99 price point. While it looks great in the white finish, you can even choose from a host of colours. Perhaps you've just seen Barbie and want to grab a pink one? Whichever colour you choose, there's nothing like a good old-fashioned couch co-op session.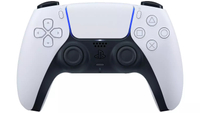 PlayStation Dualsense Wireless controller: was $69.99 now $49.00
If you want to play the best games on the PS5 you'll need a controller and the official PlayStation controller is a great choice. With adaptive triggers and haptic feedback, this is a controller for a new generation of consoles.
After a fairly quiet start, the PS5 has a whole host of titles coming this year that have the potential to be unmissable, and you'll need a controller to play. Marvel's Spider-Man 2 looks set to be the game of a generation, and with the DualSense's haptic feedback and adaptive triggers, there's no better way to sling webs.
It is this technology that makes the PS5 controller so special. It's hard to explain without experiencing for yourself but in shooting games for example, weapons have significantly more impact when firing and with the DualSense in hand, a sniper rifle will feel different to a submachine gun.
Yes, there is a more premium DualSense Edge controller for the true hardcore but 99% of players will be just as happy with the standard pad, and it comes at a fraction of the price.