One of the most eagerly-anticipated shows coming to Netflix is surely 3 Body Problem – a science fiction epic from the minds behind the Game of Thrones series. However, while it was due this year, it seems to have encountered a few problems of its own.
First it was put back to January 2024, but now seems to have been rescheduled for a release 21 March next year. That was revealed at the end of an intriguing exclusive clip posted by the streaming service recently.
In it, it shows Jack Rooney (played by GoT stalwart, John Bradley) discussing a strange VR headset device with "no logos" and "no screen" and then putting it on. This, as we are told, transports him into another world that's indistinguishable from reality.
Great Black Friday TV streamer deals
If you want to watch 3 Body Problem at its best when it does arrive, why not snag the flagship Amazon Fire TV Stick Max 4K, which has an unbeatable Black Friday discount on it right now. Both support Netflix in 4K HDR (Dolby Vision) and with Dolby Atmos sound.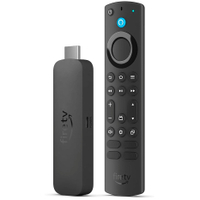 All-new Amazon Fire TV Stick Max 4K (US): was $59.99, now $39.99 at Amazon
Although it's only recently been released, the all-new, improved Amazon Fire TV Stick 4K Max has 33% off. It is faster than ever before and is Amazon's premium streaming device.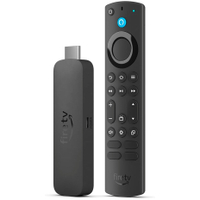 Amazon Fire TV Stick 4K Max (UK): was £69.99, now £44.99 at Amazon
There's an even bigger discount on the Fire TV Stick 4K Max in the UK – you get 36% off the usual price. That makes it the best streaming device you can get for the money.
What is 3 Body Problem?
As with Game of Thrones, David Benioff and D.B. Weiss have drawn from a cult book series for their new show – The Three-Body Problem trilogy by Chinese author Cixin Liu. They have been joined on the production team by Alexander Woo, who has previously won numerous awards for his writing work on True Blood.
The Netflix show also stars renowned British actor Jonathan Pryce and Liam Cunningham – another couple of nods to GoT – plus Benedict Wong (Doctor Strange) and Rosalind Chao (Star Trek: The Next Generation).
The clip above, plus an earlier teaser, show a hugely ambitious series which, we have learned, spans different timelines and centres on a forthcoming potential alien invasion of Earth.
Certainly, from what we've seen so far, the show looks to be every bit the blockbuster we'd expect from the executive producers, and this could be a real groundbreaking moment for Netflix – a return to form, if you like.
After numerous price hikes and cancellations, it really needs a water cooler TV series to compete with the likes of Apple TV+ and Disney+ when it comes to quality of content again. 3 Body Problem could well prove to be the ticket.
We'll find out next March.