Whilst Dyson is known for producing some of the best cordless vacuum cleaners on the market, it's no secret that they are ridiculously expensive. What is a secret is that there are also many brands that are producing some strong alternatives to the Dyson models, and we think they're not discussed enough. Ultenic is undoubtedly one of them, especially after releasing the U12 Vesla. Shark is another with their Detect Pro - the list could go on and on.
However, there's currently one Dyson alternative that's on sale, making it even cheaper than it normally is. That's right, we found out today that Amazon has reduced the Levoit VortexIQ 40 Flex from £199.99 to an impressive £139.99. Take a look for yourself: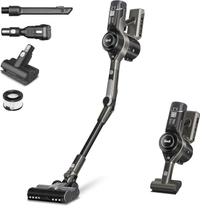 Levoit VortexIQ 40 Flex Cordless Vacuum Cleaner: was £199.99, now £139.99 at Amazon (save £60)
Known as a fantastic alternative to the Dyson cordless vacuum cleaner range, the Levoit VortexIQ 40 Flex is a powerful, long-lasting cordless stick cleaner that can tackle any tough job.
Levoit are a firm favourite of ours here at T3, especially after we reviewed their well-loved Tower Fan a few months ago. They launched the VortexIQ 40 Flex in 2022 and it instantly caught the attention of smart home enthusiasts due to its easy-to-use technology and innovative features.
It's known for its extremely powerful suction and flexible vacuum body, allowing for easy access under tables, sofas and chairs. The VortexIQ 40 Flex also has a 4-stage filtration system, enhanced with washable dual HEPA filters which trap at least 99.99% of airborne particles such as dust, pet dander and bacteria.
It also an elongated run time compared to other vacuum cleaners, allowing it to vacuum for up to 40 minutes before having to recharge. This alongside the easy mountable charging dock and mini-power brush make it an easy-to-use vacuum cleaner that hardly gets in the way.
Designed to auto-adjust the suction power to handle any level of dirt, the VortexIQ 40 Flex Vacuum also features a user-friendly LED Control Panel that allows the user to illuminate the floor to ensure that even the darkest corners are cleaned.
Still not sure? Read our guide on cordless vacuum cleaners vs robot vacuum cleaners for more information!