As you know, we've been extremely busy here at T3. Think of Santa's elves, but instead of it being Christmas and lots of presents, it's Black Friday and lots and lots of deals. The actual date is now less than a week away and let me just tell you, the deals are hotting up. Whether you're looking for a new vacuum cleaner or air fryer, we're almost certain that you'll come across a deal you can't refuse. Yes, there are that many.
However, there was one deal that particularly caught my attention. Whilst I don't need to buy one myself, and I'll explain to you why a little further on, I just knew I had to share it. Let me tell you about SURI...
Launched in 2022, SURI was brought about to help like-minded individuals seek personal care products that are more sustainable, aesthetic and convenient alternatives. Its electric toothbrush, known as the SURI Sustainable Sonic Toothbrush, caused ripples in the industry and is now rated the top electric toothbrush on Trustpilot, with over 2000 5-star reviews. It's available in four different colours: Morning Waves, Winter Fern, Midnight Black and Sea Mist. I have the Winter Fern shade, and it's *chefs kiss*.
I actually reviewed the SURI Sustainable Sonic Toothbrush a few months ago, so definitely go and check out my full review to find out more. However, it's one of the very few products that has stuck with me. Since using the SURI toothbrush, I can honestly say it's one of the best electric toothbrushes I've ever used, and I won't be going back to my previous one. It's even bagged a spot in our best electric toothbrush guide, it's that good.
Right, where was I? Ah yes, Black Friday. SURI have joined in with the incredible sales currently on and applied a whopping 25% off their toothbrushes. The discount is available on just the toothbrush or the toothbrush and UV cleaning case option, and in each of the colours! We've really been spoiled. Have a look for yourself: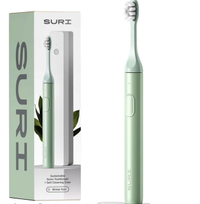 SURI Electric Toothbrush: was £75, now £56.25 at SURI (save £19)
The SURI Sustainable Electric Toothbrush uses recyclable plant-based heads and bristles, all whilst delivering a dentist-approved clean. It comes in four different colours: Morning Waves, Winter Fern, Midnight Black and Sea Mist.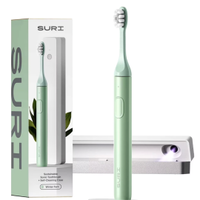 SURI Sustainable Electric Toothbrush: was £95, now £71.25 at SURI (save £24)
This option of the SURI Sustainable Electric Toothbrush also comes with a UV travel, which kills 99.9% of bacteria in just one minute and provides a good place to keep it.
Are you convinced? Have a look at the 7 mistakes everyone makes with electric toothbrushes so you're fully prepared for your new purchase.