If you're the kind of person who likes things to arrive nice and early – you put the Christmas lights out six weeks early, didn't you? – then you'll be revelling in the fact that the best Black Friday deals have come early this year. That includes Google's official sale, which includes my favourite affordable Android phone of 2023 in its offers.
I'm talking about the Google Pixel 7a, the 2022 release and supposed 'entry' model in the Pixel range, but this handset is anything but basic! This stellar model now drops from 'already affordable' to 'even more affordable' thanks to Google's greater-than-15% price cut. That's available for any of the four colours too: Coral, Sea, Snow, or Charcoal.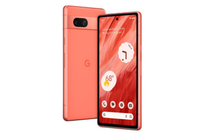 One other nicety I spotted is that if you don't have that £379 up front then there's the option to finance at £15.79 per month over two years – that's with 0% interest and, by my calculations, actually saves you four whole pence compared to buying it outright. Not that everyone wants to buy on credit, of course, but it's an option.
The Pixel 7a is feature-packed, too, as you can likely tell from the water-droplet-adorned image up top of this page. That's right: the 7a is a water-resistant device, which adds some robustness and assurance during use. It's also easy to handle, given the 6.1-inch screen – meaning it's not as giant as many 6.7-inch+ options that you'll find among the best Android phones.
It's also worth pointing out that it's not only the Pixel 7a that Google has cut the price of for this sale. I've previously written about the Pixel Tablet dropping to its lowest-ever price, while the Google Store has also decreased the Pixel Fold's asking price by £300, is offering up to 40% off smart home products, and, who knows, there could be extra deals dropping between now and 24 November...