It's an aspect of my job as Tech & AV Editor during the sales period to scour the internet for the best TV deals as part of the wider best Black Friday deals. I've been doing nothing but that this past week and have stumbled upon one of the very best high-end TV deals that money can buy – but for a cut of the normal price.
The LG G3 OLED is the best OLED TV that you can buy at the time of writing, sitting proudly atop T3's buying feature. And it's suddenly dropped to its lowest-ever price in its 55-inch size, making it an extra tempting early Black Friday deal if you're in the market for a wall-mount option. I've been tracking the price using third-party site CamelCamelCamel and can verify it's at the lowest ever.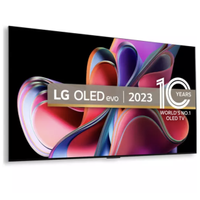 LG G3 OLED 55-inch: was £2,399, now £1,395 at Amazon
The best wall-mount OLED TV of 2023 has a nice chunk of money cut from its asking price. There's no stand in the box, so this is wall-mount only. But once it's up there it's the brightest and sweetest looking OLED you'll ever lay eyes on.
When I reviewed the LG OLED G3 I gushed that "TV doesn't get any better than this" – because its traditional OLED panel, which is backed with a Micro Lens Array (MLA) technology to ensure it's the brightest you can obtain right now, delivers images that are no only retina-searingly bright, they're eye-poppingly colourful and beautiful too.
What I find stands apart with the LG G3 OLED compared to its rivals, however, is that the picture quality just looks that degree more natural and, for movie watching especially, there's a real richness and quality to the images that I just don't think can be beaten. The only thing I dislike about the set is that you'll need to buy a separate stand if you don't want to wall-mount, and that'll add extra cost.
Interestingly, the G3 isn't the only LG set to see a discount: the step-down C3 OLED model, which does come with a stand-mount but is a little less bright, is also discounted as part of the Black Friday sales. Indeed, the gap between both isn't that significant, which gives you some great purchase options to consider!