We've seen some solid deals over the two days of Amazon Prime Days 2023, and we can only assume by now you're already bought whatever you were planning on buying. If, for whatever reason, that's not the case, and you're still out hunting for some last-minute bargains, may we draw your attention to this brilliant tent offer that knocks a whopping £115 off the recommended retail price?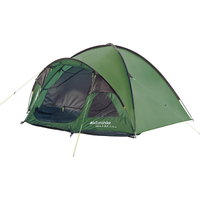 Eurohike Cairns 2 DLX Nightfall Tent: was £170, now £55 at Amazon
Featuring a fully waterproof flysheet and a nightfall-darkened bedroom that blocks up to 80% of sunlight, this Eurohike tent is pretty much the perfect festival tent if we've ever seen one. For £55, it's an amazing deal, even for those not planning on attending any music gatherings this summer. Offer ends tonight!
This 2-person portable abode is one of the best tents for those who can't sleep in bright rooms, which is especially handy at festivals where everyone goes to bed at 5 am and wakes at midday. Thanks to the Darkened Bedroom Technology, the sleeping quarter inside the Eurohike Cairns 2 DLX Nightfall Tent blocks up to 80% of sunlight from entering.
Another issue with the festival and general camping is moisture raining on your parade – literally. Rain shouldn't be an issue with this tent, though, as the waterproof flysheet has a 2000 hydrostatic head rating, more than capable enough of withstanding even heavy rain.
There are also several air vents to allow sufficient airflow through the tent, as well as front and side doors that allow for multiple access and extra ventilation when opened. Finally, a spacious porch area provides ample storage space for muddy footwear and festival essentials. Don't miss out!