There are many factors that contribute towards a good night's sleep, and Keeping Cool Month has recently taught us that the right kind of bed sheets are up there with the most important. Whether you sleep well in the heat or not, there's no denying that being comfortable and cool makes all the difference.
Unfortunately, Amazon Prime Day is nearly over. That means there's only a few more hours of deals for you to grab, so if you haven't checked out your basket yet, hurry up! However, before you put your phone away for the day, we've got one more that you need to take a look at.
One of our top rated pillows, the Panda Hybrid Bamboo pillow, is now discounted in the Prime Day sale. The original Panda Bamboo pillow scored a full five stars in our Panda Pillow review, but its their latest addition to the range that is now on offer. The big difference in the Hybrid pillow is that it uses a whole new kind of memory foam, with this one being infused with charcoal. Sounds weird, right?
Using charcoal in its pillow is actually Panda's way of including various properties that make it ideal for contributing to a good night's sleep. Charcoal is naturally antibacterial, moisture-wicking and odour resistant - the perfect mix. Its orthopaedic grade foam uniquely contours to your sleeping position for ultimate comfort and support.
Have a look for yourself: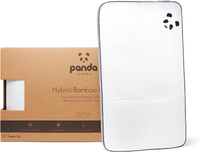 Not convinced? Look at our 2023 guide to best pillow for more ideas!