If you haven't heard of the Dyson AirWrap Styler, then you've clearly been living under a rock. It has become one of the world's most sought after multi-tool hair stylers, with users claiming it is the best hair styling device in the beauty industry.
After it received an impressive amount of 5 starts reviews since its release (ours was one of them - check out our full review of the Dyson Airwrap if you don't believe us!), it seemed to become out of stock almost everywhere. Even in the recent Amazon Prime Day sales, there wasn't an Airwrap to be seen! We did find some rather magnificent alternatives though if you're interested.
Well, if you haven't managed to get your hands on one just yet, do not fear. They have been fully restocked just in time for the Dyson Summer Sale! Whilst the Airwraps themselves aren't reduced, Dyson are offering anyone who buys one a free travel pouch. Keep reading to find out more.
However, before we begin, check out our other best hair styling guides if you're looking for something a bit different:
As mentioned, Dyson are offering customers a complimentary travel pouch worth £40 when purchasing a Dyson Airwrap. The pouch conveniently stores your Airwrap and three attachments, perfect for when you're on the move. It's light and portable, so it's easy to take anywhere! It's also made with soft, heat-resistant fabric, all held together with a a sleek ribbon to wrap everything in place. Have a look for yourself:
The Airwrap is available in two colours - Nickel/Copper and Blue/Copper. The Airwrap also comes in a Long version, perfect for those of you that have flowing locks!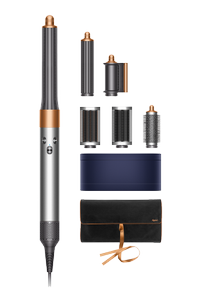 Dyson Airwrap™ multi-styler Complete in Nickel/Copper: now £479 at Dyson
Includes a complimentary travel case!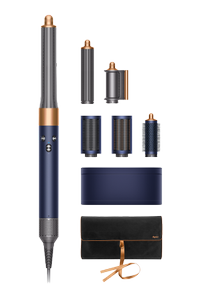 Dyson Airwrap™ multi-styler Complete in Blue/Copper: now £479 at Dyson
Includes complimentary travel pouch!
Interested in more? Check out these 5 mistakes everyone makes with the Dyson Airwrap!