Whilst writing a phone review and comparing against the superb Pixel 7, I checked the latest pricing and my jaw dropped when I saw the current price of Google's flagship on Amazon. This flash sale makes the Pixel a bona fide bargain.
With a massive £139 off the original list price, the Pixel 7 is now priced at a mere £460. And you've got much of the Easter break to grab this deal, as it expires on 19 April – well, if there's any stock left by that point!
Long seen as one of the best small phones and now clearly a contender for one of the best cheap phones given this price adjustment, I've long been a fan of the Google Pixel series. It's just Android done right.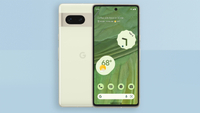 Google Pixel 7: was £599, now only £460 at Amazon
This discount lasts through till 19 April, so don't miss your chance to snap up Google's superb little flagship for a cut of the typical price. It's got a gorgeous design and stellar yet simple-to-use camera that stands it apart from much of the competition.
It seems April is the month for lots of Google-related discounts, as we've already seen the company's Pixel Watch also receive massive price cuts. That deal was originally slated as being part of the Amazon Spring Sale but, fortunately for buyers, you can still pick up that wearable for less.
I think the Pixel 7 and Pixel Watch would make a perfect pairing for any Android fan, too, so if you're in the market for one of the best Android phones right now, but don't have a huge budget, then this is a great opportunity.
It's making me look forward in the calendar because we're only about five weeks away from Google I/O at the time of writing, the company's major conference where there's a strong likelihood of new Google gear being announced. I'm expecting the Pixel Tablet rather than phones, though, so now's a good time to pick up one of Google's handsets knowing it's not going to be imminently replaced...