Amazon's Prime Day Deal Days are well underway, and we've already seen some excellent wearable offers, like this one from Garmin. If you need something less intimidating, take a look at this cheap Fitbit deal, bringing the price down of the Fitbit Charge 5 to a more appealing £99. That's 42% off, people!
The Fitbit Charge 5 is a great starting ground for someone who's keen to keep a close eye on their health and fitness levels. Fitbit's best fitness tracker – only bested by the recently announced Fitbit Charge 6 – can track your heart rate all day, every day, as well as monitor sleep, blood oxygen levels (SpO2), skin temperature, breathing rate and more.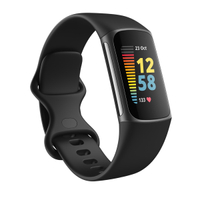 Fitbit Charge 5: was £169.99, now £99 at Amazon
The Fitbit Charge 5 is a unique fitness tracker in the sense that it has many features only the best smartwatches do, including ECG and stress tracking, yet it has a slim form factor, making it an ideal wearable for passive health and fitness tracking.
While many consider the best smartwatches as ultimate fitness trackers, they are not only more expensive but often unnecessary, especially for those who are new to wearables. No one should have to spend hundreds of pounds on a watch when all you'll use it for is to track steps and heart rate.
Fitness trackers are the best way to experiment with wearables if you haven't tried them before, and the Fitbit Charge 5 is one of the most capable ones you can get. It has many smartwatch-like features but comes in an unintimidatingly slender package.
For more deals on wearables, check out T3's roundup of the best cheap Apple Watch and the cheap Garmin watch deals.