The Google Pixel 7 and Google Pixel 7 Pro are two of the most revered smartphones of the year, while the Google Pixel 6a has proved itself to be one of the best cheap phones on the market, too.
If you're looking to pick up one of these phones this Christmas – whether as a gift or as a reward for yourself – you're in luck. Google have launched a fantastic deal, which will see you snag a Fitbit Versa 4 smartwatch completely free, when you pick up any of those three handsets.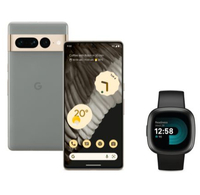 Google Pixel 7, Pixel 7 Pro or Pixel 6a with FREE Fitbit Versa 4 smartwatch at Currys
The Pixel 7 range offers one of the most complete smartphone packages available right now. Snag one with a completely free smartwatch, too, making the whole package even better!
The deal is only available from a handful of retailers, including the ones listed above. In order to claim the free gift, users will need to head to the Promo-Rewards website. It's valid for any purchase made between the 6th-24th December for SIM-free phones, and between 6th-29th December for any bought on a Pay Monthly contract. Make sure to hang onto your receipt, as you'll need it to submit the claim.
Users aren't able to submit the claim until the 16th January, so you'll need to hang on until after Christmas to get your watch. The claim can be made through the Promo-Rewards website at any point until the 15th February, and the watch will be sent out to you within 30 days of the claim being approved.
It's a great opportunity to snag a brilliant phone with a little extra free gift on top. We're big fans of the Pixel range here at T3, with the intelligently designed handsets offering great value for a flagship device. Being offered on both SIM-free and monthly contract purchases opens this up to a wide range of users too, and makes it easier than ever to get involved.