With Amazon having announced its annual Prime Day is to take place on July 11 thru 12 this year, early deals are already appearing – and there's a great discount on Apple's highest-end headphones, the AirPods Max.
These are the crème de la crème in Apple's range, the company's only over-ear headphones (I'm ignoring Beats in that assessment), topping the also-excellent AirPods Pro 2 in-ears for the sheer open soundstage and ultimate audio delivery.
The issue with AirPods Max for most people is that on release day these were expensive over-ear headphones. So with $70 off the list price, the new $479.99 price is going to be even more appealing to many buyers who've not yet taken the plunge and purchased Apple's best headphones.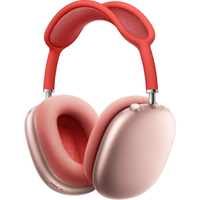 Apple AirPods Max: was $550, now $479 at Amazon
With $70 off the list price (which is a full 13%), the highest-end Apple headphones (and the company's only over-ear product) deliver exceptional audio, superb connectivity, great active noise-canceling, gorgeous design (in a multitude of color options) and Spatial Audio for the ultimate listening experience.
What I really like about this deal is that it applies to all AirPods Max color variants, not just one of the more, let's say, 'obscure' options. So whether you want green, pink, silver, sky blue, or Space Gray, the choice is yours. Personally I'd stick with a classic color, but if you've got an iPad that's also finished in blue then, well, I can see the connection.
The other obvious benefit about AirPods Max for Apple users is the way these headphones integrate seamlessly into your Apple ecosystem: so whether you want a quick connection to iPhone, Mac, Apple TV, or multiple devices together, that's no problem.
With Spatial Audio delivering convincing three-dimensional surround, I think the Max is the best way to experience this technology. There's also exceptional active noise-canceling (ANC), including a Transparency Mode, so you can hear the world around you when needed too.
If you're not convinced and think that the in-ear approach is best for you, then Apple has also got deals on the AirPods Pro 2, and non-ANC AirPods 3, ensuring there's an option for every user – and for a great price.