If you're looking to buy the best earbuds for most Apple users, then you're in for a treat courtesy of this 20%-off deal. That's because the AirPods Pro 2 have had their price cut, which will be a must-buy for many iPhone fans.
The critical feature about the 'Pro' AirPods is that they offer active noise-canceling, or ANC for short, which helps to block out the outside world's ambient noise from disrupting your listening.
And Apple delivers ANC capabilities so gloriously that the AirPods Pro 2 are an absolute joy. The AirPods 3, which are also a little cheaper, might have a 'bigger number' in their name, but don't feature ANC as part of their feature set.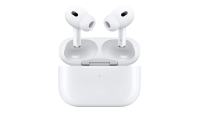 AirPods Pro 2: was $249, now $199 at Amazon
If you want active noise-canceling (ANC) then these are the Apple earbuds to buy. Even the AirPods 3 don't offer ANC, which is the main difference between the two and reason to buy these more advanced Apple 'buds. Especially at this price.
If you've got $200 in your pocket and are looking for some of the best noise-canceling in-ears available then the AirPods Pro 2 are a superb option. Especially with this $50 discount.
There are some strong competitors out there, of course, such as the Bose QuietComfort Earbuds II, but those will set you back even more cash. So for a balance of features and sound quality per dollar spent, Apple has it just right.
Cost is important too, because if you're looking further up the chain then the AirPods Max over-ears, while certainly tempting, will set you back more than double the amount compared to the AirPods Pro 2. So as deals go this one is right on the money.