Amazon Prime Day 2023 is here, and with it came the best Prime Day Apple Watch deals – and this isn't just the usual, 'Oh, look, you need to see this offer!' kind of malarkey. No, this year, there are some seriously cheap Apple Watch deals around, like this 30 per cent off Apple Watch Series 8 offer at Amazon. Crazy!
The Apple Watch Series 8 builds on this and further refines what makes the Apple Watch the best smartwatch. It can track a number of metrics accurately, including heart rate, blood oxygen, steps and sleep. The Series 8 is also a brilliant smart companion and offers calendar updates, notifications, weather reports, and so much more.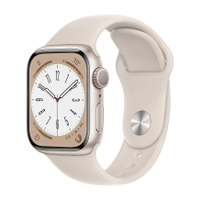 Apple Watch Series 8 (GPS, 41mm): was $400, now $280 at Amazon
The latest entry in Apple's mainline Watch franchise, the Series 8 is as capable as it gets. Whether you're looking for a fitness companion, a health smartwatch or a fashion wearable, the Apple Watch Series 8 is your best option – especially at this price point! Don't miss out.
What we appreciate the most in the Apple Watch Series 8 are the improved health and fitness features. It can be used for tracking sleep just as well as 'proper' sleep trackers, and the new-and-improved workout metrics and views bring the watch ever so close to being used for running training. It even has Track Running and Triathlon workout modes now!
We thoroughly enjoyed using the Apple Watch Series 8 when we tested it recently. The watch is as sleek as it's always been, and the price point is also more appealing than the Apple Watch Ultra. Especially now!
Should you buy the Apple Watch Series 8? For this price, we'd even recommend at least entertaining the idea of investing in Apple's latest non-rugged wearable, even if you have the Apple Watch Series 7 or the Apple Watch SE 2 (which is also on offer right now). It's a premium smartwatch experience like no other.