Are you someone that has the tendency to skip leg day? You really shouldn't. Not only do you burn more calories training your lower body muscles (as they're larger and therefore require more energy), but it's important to prevent muscular imbalances, which can increase the likelihood of injury. This particular lower body workout will take you no longer 20 minutes, so there's no excuses for skipping, and all you need is a pair of dumbbells.
This workout is made up of compound exercises, which work multiple muscles at the same time (like squats and deadlifts). As well as burning more calories, compound exercises can actually build more muscle too. This is because exercises recruit large muscle groups which elevates your testosterone levels and human growth hormone, which increases muscle mass.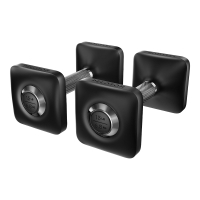 Peloton Dumbbells: were $55, now $38.50 at Amazon
Peloton's dumbbells feature a premium urethane finish, non-slip handles and ergonomic design. The dumbbells come in pairs and are available in sizes 5 to 30lb. Most are on offer for 30% off as part of Amazon's Black Friday sale – don't miss out!
For this workout you've got four exercises in total to work through, with a variety of reps (between 10 and 12). You want to opt for a medium to heavy-ish pair of dumbbells, as the goal is to challenge your muscles to help them grow. After you've completed each exercise, rest for 45 to 60 seconds before moving onto the next one. Then, once you've completed one round of the workout, rest for 90 to 150 seconds and repeat two more times. Wear some good workout shoes to help you remain stable throughout each movement. Here's your exercises:
Reverse lunge into curtsey lunge - 8 to 12 reps each side
Pulse squats 10 to 12 reps (three pulses at the bottom is one rep)
Side step squats 10 reps
Reverse lunge into knee drive 8 to 12 reps each side
We've got plenty of other workouts to target the quads, glutes and hamstrings if you liked this one. For something similar try this 20 minute lower workout, you'll actually only need one dumbbell for the majority of the exercises and it's great for improving your stability too. If, however, you're really pushed for time and you hate squatting, try these three lower body exercises that will improve their strength and size.