Deep in the throes of Amazon Prime Day 2023 and a surprise Xbox Series X deal suddenly appeared – but not on Amazon, oh no, this accolade goes to the one and only Dell. That's right: the top-tier Xbox console is now at its lowest-ever price on the American technology company's shopping site.
View the Xbox Series X deal on Dell.com
With a full $50 off the list price, Dell takes the Xbox Series X down to a staggering $449. That's the best price I've ever seen this console listed at. Indeed, tracking the equivalent on Amazon, using the price-tracker site CamelCamelCamel, tells me that Amazon's next-best price was $489. So Dell is on the money here – and by quite a margin.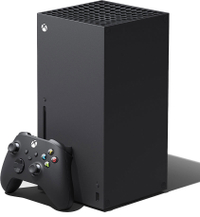 Xbox Series X console: was $499.99, now $449.99 at Dell.com
The best-of-best Xbox console and the one that everyone wants is getting increasingly hard to source once again, so to see it with a 10% price drop on Dell.com of all places is really great to see. This is the most powerful console on the planet right now, beating even Sony's PlayStation 5 in raw graphical potential, so it's an obvious purchase for the modern-day gamer.

The real reason to want an Xbox Series X, however, is two-fold: there's Xbox Game Pass Ultimate, for non-stop gaming action at your fingertips, including many of the latest and greatest titles on a subscription basis; and, of course, the variety of exclusives available – from Halo: Infinite to Forza: Horizon 5, there's something for every gamer here.
There's also a lot of talk around Microsoft getting plenty more future exclusives too: having already bought Bethesda, it's currently in international lawsuits in an attempt to purchase Activision. The potential of the titles to come out of those studios – such as the next Elder Scrolls game – will make even me, as a PlayStation 5 owner, need to take the plunge and buy Microsoft's console. And this deal is certainly making it tempting!
Having spent the previous two days digging into the best deals available at Amazon's Prime Day sale – which ends at midnight Wednesday 12 July – it's refreshing to see a non-Amazon retailer come along with such a great deal. If you've been looking then I'd suggest buying at this 10% off rate, as it surely won't last long...