If you're serious about your gaming and are looking to buy the entry-level current-gen Xbox Series S console to sit in front of your best TV in the living room, then Amazon's Spring Sale promotion ahead of the Easter break puts the console back under the £200 mark once more.
View the Xbox Series S deal at Amazon
Ok, so it's the Xbox Series S 'certified refurbished', but you still get all the warranty and assurance as you would with a brand new console. And this is a great entry point into Microsoft's gaming world, especially with £50 off the list price.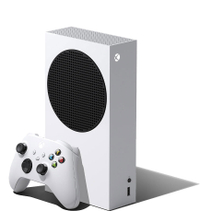 Xbox Series S [refurbished]: was £249.99, now £199.99 at Amazon
Stylish, affordable, easy to set up, and taps into the very slick Xbox ecosystem with Xbox Game Pass Ultimate. Add today's most popular streaming services and it acts as a digital-only entertainment box that will no doubt appeal to gamers and beyond. This is a great price for all that.
This console is a gamer's dream, with loads of top titles and super graphics to boot. It's not the top-tier Xbox Series X console, of course, but for this kind of asking price we're certainly not complaining.
If you're after an all-digital access point to Xbox for Game Pass Ultimate and Xbox All Access, then the Series S is an ideal way to jump on board the Microsoft train. And in these troubled and financially unstable times, this price cut is simply brilliant news for gamers. All courtesy of the Amazon Spring Sale, which ends midnight 29 March, so be quick!