With 12 May fast approaching that means one thing: Zelda Tears of the Kingdom will launch on Nintendo Switch. Hurrah! But if you want to get hold of a special slice of Link action prior to the game's release then this special edition Switch console might be exactly what you need.
That's because on 28 April Nintendo will release its Zelda Tears of the Kingdom Nintendo Switch special edition console. Pre-orders are open right now, and if the Tears of the Kingdom Collector's Edition game was anything to go by (it sold out fast) then, well, I think you'll want to move very quickly indeed if you wish to bag yourself this limited edition console.
It's not the first special edition Nintendo Switch OLED, of course, as we've seen Animal Crossing and Splatoon ones in the past, but if you're like me then the Zelda franchise will top everything because it's just such a fantastic and long-running game series that has a special place in so many people's hearts. I mean, c'mon, just look at the gallery of console images above. Now that's what I call a special edition!
Just to be clear: the Zelda Tears of the Kingdom special edition Nintendo Switch OLED console doesn't come with the actual game included. It couldn't, could it, given its release date. No doubt you'll also be wanting to hunt down the game too, the best price for which is currently at Hit.co.uk in the UK, details below: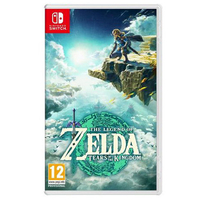 Zelda: Tears of the Kingdom: was £59.99, now £52.85 at Hit.co.uk
Base.com changed to Hit.co.uk, just in case you've not heard of the brand change, as this is a reputable site. It's also the cheapest place to pre-order of the standard version of Tears, including free postage, so I'd recommend going there to get the game for your shiny new special edition Switch!
But back to the limited edition console. Just how much cash will you have to part with? In the UK you'll find Amazon pre-listing the console for £319.99. That's only £10-20 more than the standard edition Switch OLED, so it's hardly a major premium – although as you can see in the shopping widget below, you can sometimes get larger discounts depending on which Joy-Con colour options you select.
I'm half tempted to buy a limited edition Zelda Tears of the Kingdom console just to put in in a cupboard for 20 years and see if I can sell it to a Nintendo memorabilia museum in 30 years' time. Kidding (or am I?). For Zelda, Link and Nintendo fans this is a great-looking special edition console though. I most certainly approve of its existence. G'luck in buying one!