It was only the other week that I was writing about how to secure your copy of Zelda: Tears of the Kingdom for its lowest possible pre-order price (even less than Amazon's price by a tenner). But since Nintendo's early February Nintendo Direct broadcast on 8 February, things have changed more than a bit.
That's because Nintendo announced that when Tears of the Kingdom launches on 12 May this year, there will also be a Collector's Edition available. It looks epic, complete with a physical copy of the game, artbook, steelbook, poster and pin set. But it doesn't half cost a bit!
So can you still get hold of a Collector's Edition of Tears of the Kingdom? Right now, at the time of writing, the answer is... probably not. I know, it's not the answer that anyone wants to hear. But online pre-orders sold out at Game, Smyths Toys, and Amazon in double-quick time, which is no surprise. So what can you do?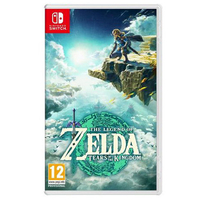 Zelda: Tears of the Kingdom: was £59.99, now £49.85 at Hit.co.uk
Base.com changed to Hit.co.uk, just in case you've not heard of the brand change, as this is a reputable site. It's also the cheapest pre-order of the standard version of the game, including free postage!
So, what can you do? Well, I thought there was a mini hack, as Smyths Toys was showing some stores as still getting stock coming to them specifically. However, it's not possible to add the special edition to basket, so this doesn't appear to be a workaround.
The best course of action, really, is to head to Nintendo's official site. There is an official page where you can register your interest for the Collector's Edition of Tears of the Kingdom, and also the Link Amiibo character too. Just hope that your email is one of the first to get pinged, as it won't last for long when/if stock does come in.
That's what I'd suggest, as the idea of paying three times the price to some scalper on eBay isn't exactly appealing. If the Collector's Edition does come into stock, however, then it'll show in the shopping widget below. Good luck and happing hunting...