When I bought my Nintendo Switch it was purely because I wanted to play Zelda Breath of the Wild – which I still think is one of the greatest games ever made for any console. Now its sequel, Tears of the Kingdom, is here and already setting sales records, fast becoming a fan favourite following its 12th May release.
It's also already available for its lowest-ever price. By which I mean even less than the best-of-best pre-order deals which I was tracking, down to an impressive £44.99 on Amazon.co.uk. You simply have to use a special £5 voucher application, which is as simple as ticking a box before heading to the retailer's online checkout.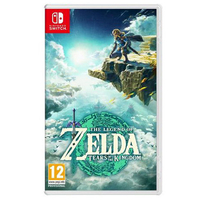 Zelda: Tears of the Kingdom: was £59.99, now £44.99 at Amazon.co.uk
Amazon may list the game at £49.99, but there's a little tickbox to offer £5 off that asking price, bringing one of the best Zelda games ever down to an impressive £44.99.
That's the cheapest I suspect you'll be able to buy Tears of the Kingdom for – and quite likely for years to come. No exaggeration.
As Nintendo fans will know: the Japanese gaming company rarely discounts its key games rapidly after launch. Indeed, even the earlier Breath of the Wild costs the very same £44.99 – and that's a full six years after its original release! So this Tears of the Kingdom price is a veritable bargain that's way down on its £59.99 recommended retail price.
Given that there aren't many other major titles launching now, I think Nintendo's May release date for the Link blockbuster was a savvy move. Save for PlayStation VR2 for PlayStation 5 (and, of course, Horizon: Call of the Mountain), I had already cleared the decks, ordered a special 1TB Zelda microSD card, and have been putting in the hours on Switch. Now you can too, just for even less cash than I paid mere weeks ago.