Don't wait around another week for the best Amazon Prime deals days to surface, especially if you're in the market for a cheap Apple Watch deal. Tech mega-retailer Currys is selling the latest Apple Watch SE for a discounted price right now in the lovely Starlight colourway with Starlight Sports Band. It's £60 off, which is not too bad for an Apple Watch that's sold for less than its predecessor!
The corners Apple had to cut – compared to mainline Apple Watches – to keep the price of the Apple Watch SE 2 low are more than forgivable. As a whole, the changes and updates might not feel significant, but there are some upgrades, both hardware and software, which make the second iteration the best Apple Watch for people on a tight budget.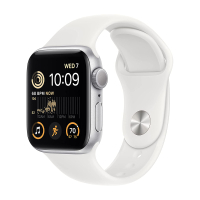 APPLE Watch SE (2022) - Starlight with Starlight Sports Band, 40 mm: was £259, now only £199 at Currys
The Apple Watch SE 2 is an extremely capable smartwatch that offers 18 hours of battery life, built-in GPS, full smart connectivity with iPhones, a brilliant AMOLED screen and the same beloved user experience we all adore. Now £60 off at Currys!
Who's the Apple Watch SE 2 for? We'd recommend it to people who prefer to get their money's worth and seek long-term value. The Watch SE range is on a by-yearly release cadence, meaning your new watch will go out of date, so to speak, slower. Plus, Apple tends to support their wearables with software updates years after their release, which should give people more peace of mind.
One thing to remember is that the Apple Watch SE 2 isn't as capable as mainline Apple Watches, which shouldn't come as a surprise, but it's worth emphasising. The Apple Watch SE 2 is more suited for passive activity tracking, like the best Fitbits, as its GNSS isn't as accurate, and the wearable also lacks specific sensors. If you're an iPhone user looking for a sleek fitness tracker-cum-smartwatch, the Apple Watch SE 2 is your best bet.