If you don't have a smart plug at least somewhere in your home, then you're missing out. If you're not even sure what a smart plug is, then you're seriously missing out. The best smart plugs can be put into your existing wall sockets, allowing you to then plug in your household appliances such as your kettle, toaster, lamps etc. This then gives users the ability to control these devices or appliances remotely via an app. Cool, right?
If you hadn't heard, Amazon is actually hosting a second Prime Day next month. It will start at a 00:01 on 10th October and run through until the end of play, 23:59, the following day. You will be able to find all the biggest deals on the main Amazon Prime Big Deal Day in the US.
Even though it's still a few weeks ago, we've noticed that the pre Prime Day sales are slowly making more of an appearance. After having a good browse, we're starting off with a good one, especially if you're in the market for a smart plug. Amazon have announced a huge 33% off their top choice smart plug, the EIGHTREE 4 pack.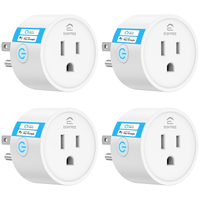 Like other top rated smart plugs, the EIGHTREE Smart Plug can be activated via voice control with Alexa and Google Assistant. That literally means you can turn your kettle on without even having to leave the couch. Does that make anyone else excited? Okay, only me then.
It's also incredibly easy to set up, taking less than two minutes to configure. The upgraded chip makes it easy to keep a stable network connection, helping it not to go offline often. Other features also include diverse timer scheduling functions, create scenes, group control and device sharing functions.
The EIGHTREE Smart Plug also comes in a single pack and a double pack, but it is the 4 pack that's currently discounted. A 4 pack is great way to get your smart plug setup sorted, especially if you're buying them for the first time. For only $19.00, that makes each plug $5 each - you can't really go wrong!