A Bluetooth keyboard is a handy accessory for anyone, whether you're on the move with a laptop, working from home or in the office. It makes a laptop more useable when also paired with an external monitor, and much more like a desktop. They're also handy for using with a tablet, smart TV or even a phone to help you browse, search and of course write.
For Mac users, there's a good range of options from Apple for wireless, or Bluetooth, keyboards. However, if you're looking for a cheaper option, some of the third-party solutions are also really good.
One such third-party model is the Logitech K380 Wireless Keyboard. This is a compact and portable keyboard that can be paired with up to three devices and is compatible with both PC and Mac devices, as well as phones, tablets and even Apple TVs.
While the K380 was already well priced at $40, right now it's down to just $29.99 for the dark grey version. That's a 25% discount on the regular price. This deal is unlikely to last for long, so if you are looking for a new keyboard, I'd snap this one up now.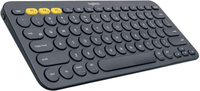 Logitech K380 Multi-Device Bluetooth Keyboard: now $29.99 at Amazon (was $39.99)
Logitech's Bluetooth keyboard is a great budget option for both PC and Mac users, and looks good too.