If you're looking to buy a pair of earbuds for gaming then you're in for a treat courtesy of this stellar Razer deal. Especially if the current AirPods 3 offer doesn't appeal and you're looking for a more budget option – as the Razer Hammerhead has dropped to its lowest-ever price at under $40.
There are some particularly standout features about the Hammerhead that make them some of the best wireless earbuds for gamers: low latency of 60ms being principle, but also an IPX4 splash-resistance so that even sweaty gaming sessions aren't going to be a bother for these 'buds.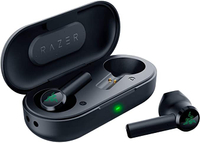 Razer Hammerhead true wireless earbuds: was $99, now $39.89 at Amazon
There's a massive $60 reduction on the Hammerhead gaming earbuds, marking their lowest-ever price. If you want a more AirPods-like look then they're available in white instead of black should you prefer – although at this low price point you could bag one of each!
Available in Razer's signature black-and-green arrangement, those looking for a more AirPods-like finish may be drawn to the white-and-grey option instead, which aligns better with Apple's kit in my opinion. There's also a pink option from Razer, but that's not currently in stock and far harder to find.
Where the Razer Hammerhead can't compete, however, is against the best noise-cancelling earbuds, as they don't offer active noise-cancelling (ANC). Whether you mind that is down to personal preference, as not everyone wants to electronically block out the outside world – which is the key sell of the best ANC headphones and many of the best gaming headsets.
We're not just talking mobile gaming here either, although the Hammerhead's Bluetooth 5 connection will ensure that's up to scratch, of course. But Razer is also renowned as one of the best gaming laptop producers out there (and winning the 2023 T3 Award for Best Gaming Laptop to prove it).