It's that time of year when many are heading to late season starts at college or university. So what's the best TV for college students to buy on the cheap to jazz up your dorm rooms? Amazon has a decent deal that's worth your attention.
There's a bargain $70 off Amazon's 32-inch 2 Series Fire TV, meaning you can stream live TV and from your favourite streaming services - whether Apple TV+, Netflix, Disney+, Amazon Prime or other services - without the need for extra wires or additional expensive boxes.
This TV is actually at its lowest-ever price in this sale, with a full 35% cut from the list price. That's the best price I've ever seen it listed, as verified by the price-tracker site CamelCamelCamel, which tells me that Amazon's next-best price was at the tail-end of July this year.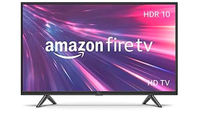 Amazon Fire TV 2 Series: was $199.9, now $129.99 at Amazon.com
The 32-inch version of the 2 Series Amazon Fire TV is a brand new 2023-launch model, so it brings up-to-date quality including high dynamic range (HDR) playback. However, do note it's a 720p 'HD Ready' model owed to its smaller size – the step-up 40in model is 1080p Full HD if you want more resolution and scale.
I've highlighted the 32-inch model as the ideal pick given its low price overall. Plus it's not too massive – and colleague rooms aren't renowned for having stacks of space anyway. If you're looking for the best TV, however, be prepared to pay quite a lot more – especially when it comes to the best OLED TVs money can buy.
One of the great things about Amazon's Fire TV series is that it brings together everything great about the platform in one place. There's access to live TV, video games, and music, and your favourite streaming subscriptions too. And if you do have kit to plug in then three HDMI ports will have you covered.
It might be that you've got a Nintendo Switch and want to sometimes play it on a bigger screen – that's when this 32in model will come into great use. Or just for streaming those YouTube videos while you're doing some school work. At this price it's a great solution for many students looking for serious value.