I've already written about my best Amazon Prime Day headphones pick (spoiler: the Bose NC Headphones 700 over-ears), but there's an absolute steal in the true wireless earbuds (TWS) market for the Prime Day 2022 sales too.
Browse all Headphones & Earbuds Prime Day deals
I'm talking, of course, about the Sony WF-1000XM3 in-ears, which upon their release in 2019 bagged a T3 five-star review (you can also check out all the Prime Day T3 five-star products in Amazon's sale), impressing with their audio clout and deft active noise-cancelling (ANC) features.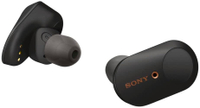 Sony WF-1000XM3: was £220, now £75.99 at Amazon
You're not going to find a better true wireless headphones deal than this for 2022's Amazon Prime Day.
It's a great example of what a little age can bring: Sony's last-gen earbuds may not be quite as up-to-date as the XM4 model, but they still deliver big where it matters – and for a cut of the price this Prime Day.
They're worth their original £220 list price, so to be able to bag these in-ears for a mere £76 is an absolute steal. That's a giant 65% off the original price!
Even today, these Sony earphones are still among the best TWS buys, despite being replaced by the newer WF-1000XM4 model. And you'll already have seen why in the deals box above.
Their price has been slashed to a mere £76 in the UK, which is less than you can purchase various 'budget' headphones competitors for. Take my word for it: that's going to be an unrivalled deal this Amazon Prime Day.
But be quick: Amazon's sales extravaganza only runs for two days, through close of Wednesday 13 July, before prices in theory reset. And with demand high, stock isn't going to last out all that long.
The only catch to this earbuds deal? The black finish will cost you more. But even that model, at £98, is a certified bargain too.
Amazon Prime Day alternative sales – UK