As November comes closer and closer, it can only mean one thing. Black Friday is coming, taking place on Friday 24th November and followed by Cyber Monday on Monday 2nd November. As we start collecting all the best deals and discounts in the lead up to the big day, some retailers have graced us with releasing some offers early. We've already reported that Ninja has discounted its best-sellers by 20%, and now NutriBullet has entered the scene...
The NutriBullet 600 Series holds the top spot in our Best NutriBullet buying guide and second place in our round up of the best blenders. That just proves it's a firm favourite here at T3, and news that it's currently on sale has spread like wildfire. That's right, the NutriBullet 600 Series is now 29% off on Amazon. Have a look for yourself: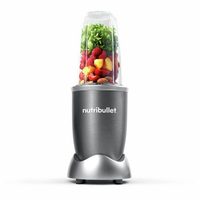 NUTRiBULLET 600 Series: was £69.99, now £49.99 at Amazon (save £20)
Nutribullet's powerful 600W motor and cyclonic technology creates delicious NutriBlasts by breaking down whole vegetables, fruits and nuts for maximum nutrition extraction.
Also known as the Original (or simply NutriBullet, in the States), this model is just about all you need for a regular dose of chunk-free enzymes, vitamins and fibre. With 600 watts of oomph under its bonnet, this little baby will liquidate even the hardest veg and fruit in a flash and clean itself afterwards with consummate ease.
Being the simple package it is, the 600 comes with a medium-sized 680ml pitcher, a shorter 511ml cup, a lip ring for sipping on the go without spilling liquid all over your pants, a lid to seal in the flavour and freshness, a recipe booklet and a guide to healthy nutrition. It's quick, easy to use and simple to clean, perfect for fresh, healthy breakfasts to kick-start your morning and whole-food nutrition throughout the day.
If you fancy embracing the world of NutriBullet but don't require bigger helpings, the extra power or a surfeit of accessories, then this is the model to opt for.
Interested in more? Check out the 8 foods you should never put in a blender!