When it comes to the best TVs I've seen a lot of models from a lot of manufacturers. And while I do love the best OLED TVs in 2023 as a personal preference, one alternative telly that blew my mind when I first saw it was Samsung's The Frame series. Which, as luck would have it, is on sale in 65-inch form for its equal lowest-ever price this Amazon Prime Day.
The Frame features an anti-reflective coating that is so mind-bogglingly capable that the TV also features an Art Mode so you can display static works of art – and many people wouldn't be able to tell the difference. But I think this feature is highly valuable for normal TV viewing, because, let's face it, reflections are typically annoying.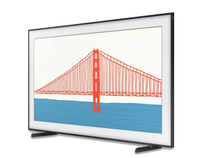 Samsung The Frame 65-inch: was £1,299, now £999 at Amazon.co.uk
The 2022-released The Frame is a QLED panel, which means Quantum Dot and bright LED illumination for punchy colours and great-looking pictures. But, as I've mentioned, the anti-reflective coating of this TV delivers that in an undisrupted format that will make it a great choice for those looking to, for example, wall-hang their new TV as if it's a piece of art.
Ok, so The Frame was released in 2022, but I honestly don't think that matters, as the sheer quality from this QLED panel is phenomenal. And seeing as its 2023 replacement model doesn't add a new panel update, buying the newer model doesn't bring any picture benefit. So I'd suggest you save the cash in this case!
As said in T3's The Frame review, which netted the set a coveted 5-star award: "Samsung's art-inflected flatscreen is more refined and convincing than ever. The ability to customise the TV with a variety of gallery-style bezels remains a brilliant cosmetic wheeze, but the adoption here of a matte screen really enhances its presentation of digital art – and with minimal reflection. Combine this with a punchy QLED 4K picture and you have a unique proposition that makes even afternoon telly look artistic."
And while you might assume The Frame isn't for everyone, in our testing of the TV, it proved impressive across the board. Thanks to HDMI 2.1 even gamers are catered for, and with lag that's actually impressive, those wanting to wire up a current-gen console rather than an art pack won't be disappointed. That mix of current technology in a design format that's truly standout gives this 4K Samsung set a real edge – especially at this price on Amazon Prime Day.