If you've followed large sales like Amazon Prime Day before, you'll know that discounts on the PS5 are as rare as hens teeth. In previous years, our coverage of the much-loved console has been more focused simply getting hold of one, rather than getting a great deal.
That scarcity appears to have subsided somewhat, though. This year, we've even found a cracking deal, which should give you a nudge in the right direction if you're currently on the fence.
Right now, you can pick up the PS5 with God of War Ragnarök for just £453.99 – that's a saving of £86. It's even less than the retail price of the console on its own.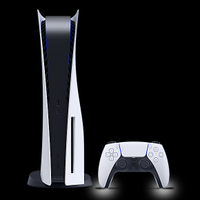 PS5 with God of War Ragnarök: was £539.99, now £453.99 at Amazon
Save £86 on the PS5 console in a rare Prime Day discount. This bundle sees users snag the console itself, a DualSense controller and the brilliant God of War Ragnarök title – all for less than the price of a console alone at retail.
If you're a fan of gaming, the PS5 is a great purchase. For old-school PlayStation fans, the console delivers the same experience as legacy machines, but benefits from upgraded components for next-gen gameplay. Top titles and AAA games look superb, and the playing experience is smooth.
Plus, with this bundle you get access to the God of War Ragnarök title. That game absolutely blew away the critics when it was released – including our own reviewer, who dubbed it the "godfather of sequels." It's a stunning game to look at, with a fleshed out story that is packed with detailed characters and side-missions.
While I'm well aware that the situation with PS5 stock has changed dramatically in the last few months, it's still very rare to see a discount on the device. When that discount is the best part of £100, it's even more impressive. If you've been debating picking up a PS5 for a while, or have been unlucky with finding stock, this could be the deal you've been looking for.