With the iPhone 15 launch now just a matter of days away (you can watch it here), it's an exciting time for Apple fans. But not everyone is going to want or be able to afford the annual upgrade, so if you've got an iPhone 14 (or iPhone 13 for that matter) then this excellent OtterBox case is on offer – and is an ideal way to revamp your older iPhone to look clean, fresh and new!
OtterBox is a reputed brand, and with 192 people on Amazon rating the case the full 5-stars (the average score is a strong 4.6-stars based on 233 verified ratings at the time of writing) it's clearly a popular choice among buyers. Better still, of course, is that there's a massive 43% discount on the case at the moment, so you can spruce up your older iPhone for even less!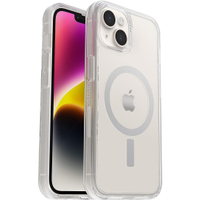 OtterBox Symmetry Series+ Case: was $49.95, now $28.49 at Amazon.com
OtterBox is one of the most renowned case-making companies, with millions of buyers around the globe content with their iPhone case purchases over the years. If you've got an iPhone 13 or 14 model that needs a fresh new case look then this Symmetry Series+ is a great option that's highly rated, transparent, or available in a multitude of other finishes.
If you own one of the other best iPhone models, however, such as the larger iPhone 14 Pro Max, then OtterBox also makes a case for this bigger handset – it's also discounted from the full asking price of $49.95, but not to quite such a large degree, as it's available now for $32.95 (which is a still decent 32% discount).
I think this OtterBox case is a really great choice, especially with so many other makers charging an arm and a leg for their cases, some of which aren't always of the best quality. Apple does make its own official cases, too, but rumour is one of our favourites – the leather finish – is about to be discontinued when the next Apple event takes place on 12 September 2023.