The best Nintendo Switch deal in the UK, as far as I can see using our advanced deals spotting AI bots, is at a retailer you might not expect. It's eBay. By that I don't mean there's someone in Nantwich selling one cheap, no time wasters. No, it's a proper shop – ShopTo – that just happens to use eBay to sell its stuff through. The price? £239, which is a big £60 off RRP, or a slightly less big £10 off all the other Switch deals around today.
• View the Nintendo Switch deal at ShopTo at eBay now
You can scroll down to see the best deals in whatever country you are in, but for the UK, this is today's El Nintendo Numero Uno. That's Spanish. If you want more deals as good as or – in all likelihood – better than this one, hurry yourself along to our guide to the best Cyber Monday deals.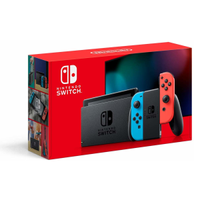 Nintendo Switch was £299.99, now £239 at eBay
There was a better deal on this yesterday but you probably don't want to hear that. £60 off isn't bad though. If you've been thinking of buying a Switch for a while, maybe today is the day. This is £10 cheaper than the next best deal.
In our Nintendo Switch review we said that "the BigN knocks it out of the park" with the console and "partners superb gaming pedigree with stylish, premium-grade hardware". We then gave the Switch a maximum score of 5 stars.
Even with the Nintendo Switch OLED launching, the original Nintendo Switch remains a fantastic buy as it is just as powerful as the newer console and can play all the same games. At £239 it is also £60 cheaper.
To see the best prices on Nintendo Switch at other retailers right now be sure to check out the pricing chart below.