I'm rarely seen without a watch on my wrist. I've owned smartwatches, automatic watches and digital watches, with the main criteria for my purchases being that they're affordable and they're versatile, being able to work with whatever outfit I wear. So, when I saw the Casio A158WA-1 knocked down to just AU$49 as part of the Amazon Prime Big Deal Day sales, I had to snap it up in an instant.
Already a bargain at its original AU$109 price in my eyes, this 55% saving was far too good to turn down. The Casio A158WA-1 employs what I believe to be one of the most iconic silhouettes in watch making. I'm convinced we've all owned some version of the timeless Casio in our lives, whether it be this model with a stainless steel band or the black resin model that likely introduced us all to wristwatches when we were younger.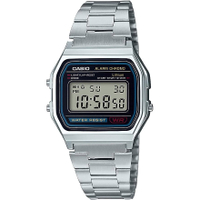 Casio A158WA-1 | AU$109 AU$49 (save AU$60)
The Casio A158WA-1 is as timeless as watches come. Sporting a digital display and powered by a battery that will last for literally years, it's also more likely to be accurate than any automatic watch you may own. Not only will it tell you the time with clear legibility, but it has an alarm function, stopwatch, is water resistant (although, I wouldn't go swimming with it, just in case) and has an LED backlight to illuminate the screen when you're in the dark.
It's a simple, practical design and one that will match pretty much any outfit you throw together. And, for AU$49, you won't feel the need to be super cautious when wearing it. I know I'm adding one to my shopping basket.
The A158WA-1 isn't the only Casio watch discounted in the Amazon Prime Big Day Sale, there are five whole pages of Casio goodness to peruse through. Highlights include the very similar A168WA-1 for AU$69. The main difference between that watch and this A158WA-1, is the former gets a slightly better LED backlight, and aesthetically, it has more red accents on the front.
Other top picks in my opinion include the GA2100-1A1. Dubbed the 'CasiOak' by watch enthusiasts, due to its uncanny resemblance to the far more expensive and exclusive Audemars Piguet Royal Oak, for AU$125 you can nab yourself an iconic octagonal-shaped watch complete with analogue and digital time telling.
There are numerous G-Shock watches on sale, some with up to 63% off. G-Shock is a sub-brand from Casio, with watches that are designed to withstand all manner of shocks, knocks and bumps. If you're someone who spends a lot of time outdoors, or is just a little bit clumsy, a G-Shock watch could be an ideal addition to your wrist.
Check out the full catalogue of Casio watches on Amazon to snap up a bargain. Just remember, you do need to be a Prime member to take advantage of the deals.