Fitting up your home with one of the best security cameras on the market is a great way to give you added peace-of-mind. And if you want the best, look no further than the Arlo Pro 4.
When we tested these cameras, our reviewer was impressed with the quality of the video feed. The Pro 4 boasts a crisp 2K resolution, meaning you can see clearly who, or what, has triggered your camera. We were also impressed by the software, which enables you to set active zones, minimising the risk of accidentally triggering the camera as you go about your day.
Right now, these brilliant cameras are on sale for just $299.99 at Amazon, meaning you can get the same great quality for even less!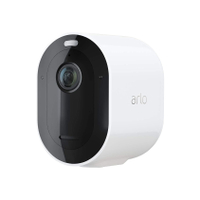 Arlo Pro 4: was $379.99, now $299.99 at Amazon
The Arlo Pro 4 security camera offers brilliant 2K resolution, allowing you to keep a clear eye on what is happening in and around your home. Now, you can grab a two-pack of these camera for even less!
Modern security cameras have a host of added features and benefits, to make it simpler than ever to watch over your home. The Arlo Pro 4 is no exception.
The cameras are designed to withstand all kinds of weather and heat, making them a great option to leave up all year. The battery is also good for between three and six months, meaning you won't need to constantly recharge them.
Elsewhere, night vision ensures that you can see what happens in the dark, while a powerful spotlight can act as a deterrent, to ward off any unwelcome visitors. In the app, advanced tracking capabilities can detect who, or what, has triggered the sensor. Categories for people, packages, vehicles and animals are all included, and will change the notification text, so you can see at a glance if you need to take action.
A 160° wide-angle view means you can see larger, open areas, too. That's perfect for covering bigger yards or gardens, and should mean you need less cameras in total.
The two-pack on sale here is perfect for getting started, and may even be enough for you altogether. It's a great saving, too – though it wont be around forever!