The Samsung Galaxy S23 Ultra is unquestionably one of the best phones on the market right now. Fusing a familiar design with a brilliant spec sheet, the device has taken the world by storm.
I wasn't banking on it getting a decent Amazon Prime Day deal, though. While it has always been priced at the higher end of the market, it earns its place with a 200MP camera and the brilliant Snapdragon 8 Gen 2 processor.
But I was wrong. Right now, you can pick up the 512GB variant of the device for the same price as the smaller 256GB model. That's not all, either. For just £1,199, you'll get the 512GB model – plus a free laptop!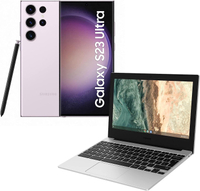 Samsung Galaxy S23 Ultra 512GB: was £1,399, now £1,199 at Amazon
Save £200 on the top-spec Samsung Galaxy S23 Ultra this Amazon Prime Day – and bag a free Chromebook to boot! You'll enjoy brilliant images captured by the 200MP camera, and superior performance with a top Snapdragon processor.
If this deal only included the phone, you'd be getting a good deal. Throw in a free Samsung Galaxy Chromebook Go, though, and you're getting a whole lot of tech for the money.
The Chromebook Go is a useful little device in its own right. As is the nature of a chromebook, it isn't going to excel with high-horsepower tasks like video editing or music production. But simple day-to-day tasks – word processing, spreadsheet work and streaming content – should be more than fine.
It would make a great laptop for a student. Perhaps you're looking to upgrade your phone, but also need to pick up a device for the kids to work on when they start the new school year. This deal kills two birds with one stone.
The deal shown above doesn't do full justice to the true savings on offer. This bundle tends to retail for £1,698, meaning you'll save £499 on the pair.