We're big fans of the iPhone 14 here at T3. The vanilla model is the perfect embodiment of everything you need and nothing you don't. You'll find the familiar iPhone blueprint, which will feel homely to anyone who has used an Apple device before.
This time out, though, there's a host of cool extra features, too. Users get access to Emergency SOS via Satellite. That functionality enables users to call for assistance when they're stranded and have no signal.
And right now, you can pick up an iPhone 14 at Mobiles.co.uk for a great price. Having taken £30 off of the upfront cost, you can now get the device with 100GB of data for just £29.99 per month. That's a great deal. Over the course of two years, that would equate to a total outlay of £789 – not bad considering the device alone is still £849 from Apple direct!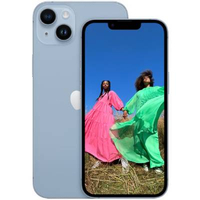 For that price, you're getting a solid handset. The iPhone 14 packs in a capable camera system, which performs much better than the raw megapixels would suggest.
You'll also get access to the iOS 17 software when it gets publicly released. Apple are really good for keeping legacy devices updated, too, so you should be good for updates for a few more years, too.
And while ID Mobile might not be the most well-recognised provider on the planet, they are good. I've personally been using them for a few years now, and never had any issues. Signal strength is as good as any other brand I've tried, and their app makes keeping track of your plan effortless. You'll also see your data rollover from month to month, meaning any unused data can be used in the next month instead.
This deal is only active until Monday the 3rd of July though, so don't hang around.