Amazon's Spring Sale came and went in a blink of an eye (although you can still get the Google Pixel Watch for a pretty good price); not like there was anything to look at if you're interested in the best drones and best action cameras. If that's what interests you, you'd better head over to DJI's website and check out all the sweet deals on their products.
Browse DJI's Easter Sale in the UK with up to 22% off drones and action cams.
Or browse DJI's Easter Sale in the US (up to 15% off)
We found some of the "Special gifts" hilarious – get a free DJI drawstring bag when you buy a one-and-a-half grand DJI Mavic 3 Classic – but the actual deals aren't too shabby and can save money on top-quality drones and modular action cams. If you find the discounted prices still too high, head over to T3's best cheap drone roundup for alternative options (here is a recent cheap drone we tested: Potensic Atom SE review). Otherwise, have a look at our highlights of the DJI Easter Sale.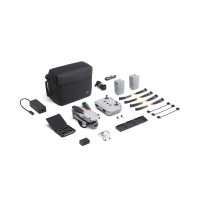 DJI Air 2S Fly More Combo: was £1,169, now £999 at DJI
Now, this is a deal that excited us greatly! Not only do you get what we called in our DJI Air 2S review the "ultimate camera drone", but also a battery charging hub, ND Filters set, shoulder bag and two extra batteries so you can fly your new drone for an hour and a half without charging the batteries. Now £170 off; offer ends 9 April!
Also on offer is the DJI Mini 3 Fly More Combo (was £828, now £728), a beginner-friendly sub-250g model with 4K HDR Video capabilities. The Mini 3 has a True Vertical Shooting mode, meaning you can capture footage both horizontally and vertically in 4K (and without cropping the video in post). Need more info? Read our full DJI Mini 3 Pro review.
DJI's FPV drone (was £959, now £858) is included in the deals, too. Providing an immersive flight experience, the DJI FPV can shoot 4K/60fps footage and has a super-wide 150° FOV and up to 10km HD Low-Latency Video Transmission. Read our full DJI FPV review for more info.
Finally, DJI's Action 2 can be yours for 22% less now (was £349, now £271). Featuring a magnetic, modular design, the wearable Action 2 can record 4K/120fps footage and is waterproof to 10m. If you decide to buy the cam, you'll also receive a DJI Magnetic Protective Case free of charge! Read our full DJI Action 2 review for more details.