If you've been thinking of investing in a new drone, there's an excellent deal on at Wex Photo Video that could save you some serious cash: the DJI Mavic Air 2 Fly More bundle is now £759, saving you £180 on the usual price. Or, if you're in the US, you can head to Best Buy for US$199 off.
In our DJI Mavic Air 2 review we gave it a full five stars. This impressive drone originally launched in April 2020, and it's an extremely capable bird that offers rock-steady, quiet flight, an impressive 34-minute maximum air time on one charge, and three-way obstacle sensors. It'll also shoot stunning 48MP photos and 4K video at up to 60fps.
If you're not familiar with the 'Fly More' bit, this is a bundle option DJI offers with all of its drones. It includes incredibly handy extras such as additional propellers, spare batteries and an ND filter set to open up more creative shooting options. We'd always recommend going for the Fly More option if you can afford it.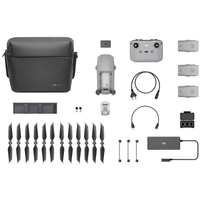 UK deal: DJI Mavic Air 2 Fly More bundle: was £939, now £759 at Wex Photo Video (save £180)
This bargain bundle includes the excellent DJI Mavic Air 2 drone, as well as the extra accessories you need to stay in the air for as long as possible. The Mavic Air 2 will shoot 48MP photos and 4K/60FPS video, and has an impressive max flight time of 34 minutes. This deal is also available from DJI direct, if you prefer.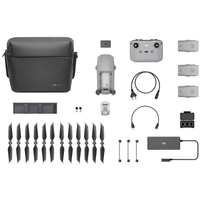 US deal: DJI Mavic Air 2 Fly More bundle: was $988.99, now $789.99 at Best Buy (save $199)
Shoppers in the US can head to Best Buy for a $199 discount on this 5* drone and comprehensive accessories bundle. The Mavic Air 2 isn't the newest drone in the Air lineup, but is still an extremely capable drone, offering confidence-inspiring flight and impressive stills and video.
Are there any other drones you should consider before hopping on this deal? The DJI Mavic Air 2 had its thunder stolen a little the following year when DJI released the DJI Air 2S, which is, it should be noted, objectively better (in fact, we think it's the best drone around right now). But it's also pricier – check the widget below for the best prices on the DJI Air 2S Fly More Combo right now – so you'll want to weigh up your needs to figure out if the extra outlay is worth it for you. Our DJI Air 2S vs DJI Mavic Air 2 article compares the two in detail.
Not visiting from the UK? Here are the best prices on the DJI Mavic Air 2 Fly More combo in your area.