Spring has sprung: cue the annual search for cheap compost deals. This year, more people than ever are looking to buy compost online either for delivery, or click and collect, for obvious safety reasons. Many mainstream retailers have currently sold out - you can't currently order compost for delivery or click and collect from B&Q online or Homebase online, and Wickes online is down to very limited stock.
But you can still buy compost online for delivery. We've curated the best cheap compost deals currently available here on this page.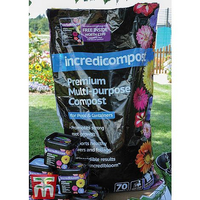 Browse compost at Thompson & Morgan: from £4.99 | Thompson & Morgan
Thompson & Morgan is one of the few retailers that hasn't yet run out of compost: prices start from around £4.99. Our top pick is Incredicompost (from 9.99, pictured) - a vegan-friendly, professional grade compost that's great for sowing seeds and raising young plants. It comes with a free pack of Incredibloom fertiliser. But there are plenty of other compost brands to browse, too.
Which seeds give the fastest yield?
No matter whether you have a garden, courtyard, balcony or even just a windowsill, now is the optimum time to start your grow-your-own endeavour. If you're planting on your balcony or windowsill, things like peppers, herbs, tomatoes and salad leaves are really good options. You could also try a potato grow bag on a balcony; or even kill two birds with one stone and try 'tomtatoes' – an innovative plant that yields both tomatoes and potatoes.
Seeing the first seedlings sprouting can be very exciting, and having the fully fledged veg on your plate is even better. If you're looking to reduce plastic and scale-down reliance on supermarkets and big chains, get those seeds in now. Plus, growing your own veg is a great way to pass the extra time we all have at home now - but it all starts with that first bag of cheap compost, delivered right to your door.
How to choose the best compost
Multi-purpose compost is the all-round safe option for getting started with most fruit, veg and flowers. Spend a bit more and you can buy multi-purpose composts with slow-release fertiliser from brands such as Osmocote. These are particularly good for good for growing plants in pots and hanging baskets. You could also splash out on multi-purpose compost with moisturiser-retaining gels or crystals so you don't have to water them as much. Again, these are good for pots and hanging baskets, but not necessary for gardens.
Seeds will grow in anything, but to give them the best start you could opt for seed compost. This is less aggregated - which means there are fewer open gaps of air, helping provide the perfect environment for germination.
Next comes the soil or peat question. Peat in compost has become quite unsustainable in recent years, as it has stripped many habitats of their peaty home and does not regenerate quickly – it's said to take up to 100 years to regrow. If you want to make the environmental choice, then peat-free or reduced-peat is recommended.
The best cheap compost deals we've found online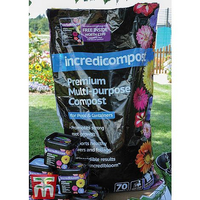 Incredicompost Premium Multi-Purpose compost: from £9.99 + FREE 100g pack of Incredibloom | Thompson & Morgan
Thompson & Morgan is one of the few retailers that hasn't yet run out of compost. You can currently buy 25L of Incredicompost - a vegan-friendly, professional grade compost that's great for sowing seeds and raising young plants - for £9.99, with a free 100g pack of Incredibloom fertiliser. Alternatively, choose the 70L pack for £14.99 and get 210g pack of Incredibloom free.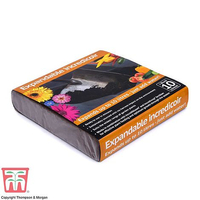 Expandable Incredicoir: from £4.99 | Thompson & Morgan
As a by-product of the coconut industry, Incredicoir is sustainably sourced and more environmentally friendly than peat moss. Just mix the block with water and you'll get the equivalent of a 10 litre bag of peat-free compost in 10 minutes. For optimum growth, add some controlled release fertiliser such as Incredibloom (£4.99) or Incredicrop (£4.99) too.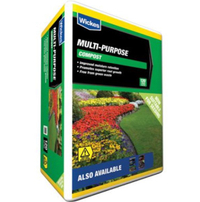 Browse compost at Wickes: from £3.50 | Wickes
When it comes to cheap compost, Wickes tends to be a winner, with products like 120L of Wickes Multipurpose compost (pictured) on sale for just £8. Right now though, many are limited stock, and only available for in-store pick up. It's worth having a browse to see what Wickes has in your area.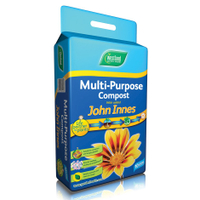 COMING SOON: Westland Multi-Purpose Compost | Various retailers | From £3.99 for 10 litres | Crocus
Perhaps the most omnipresent cheap compost option on this guide, you can have Westland's multi-purpose compost from many retailers. It comes with added John Innes, which makes it particularly potent for pots. But there's a reason we've listed this last - Westland compost doesn't tend to score that well in expert testing.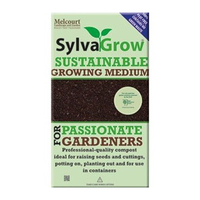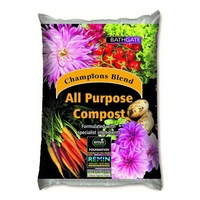 SOLD OUT Bathgate Champions Blend | eBay | £14.95 for 50 litres
We can only find Bathggate Champions Blend compost on eBay at the moment, but it's well priced and has a terrific reputation for use with seeds. Yes, it's high in peat, but also incorporates more unusual compost constituents like envii bacteria and seaweed extracts. If it's a herb garden or windowsill you're after, then Champions Blend is worth shortlisting.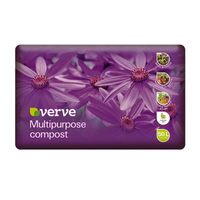 SOLD OUT Verve Multi-purpose Compost | B&Q | From £4.60 for 50 litres / 3 for £12
An excellent compost from a familiar store, B&Q's own Verve brand compost is one of the cheapest around. The award winning multi-purpose compost is especially good for sowing seeds in the garden and greenhouse, promising to give them a six-week feed. Delivery's a fiver, unless you add your compost to a bigger B&Q order as delivery is free when you spend £50. It's worth noting that Verve compost does contain peat, and isn't so good for acid-loving plants such as Rhododendrons, Heathers and Azaleas.

Browse more cheap compost deals