Xbox Series X restocks have been few and far between since the console's launch, but the tide is turning – and better yet, you can pick one up right now without dropping hundreds of dollars for the pleasure.
Microsoft has been replenishing Xbox Series X stock at retailers at a faster pace than Sony with the PS5 it seems, and the restocks look a whole lot more appealing with the prospect of Xbox All Access. The program is essentially the same as a smartphone contract, tying you in for 24 months at a fixed monthly price. In return, you get either an Xbox Series X or Xbox Series S console with no upfront cost, from $25 / £21 / AU$33 per month. And that includes a 24-month subscription to Xbox Game Pass Ultimate.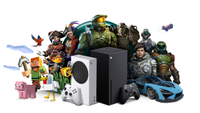 (opens in new tab)
Xbox Series X|S at Walmart on Xbox All Access (opens in new tab)
Get the newest generation of Xbox consoles at Walmart with no upfront cost. Xbox All Access lets you pick up an Xbox Series S for $24.99 per month, or an Xbox Series X for $34.99 per month. You also get 24 months of Xbox Game Pass Ultimate thrown in for good measure.
This is a great initiative and makes getting a next-gen console significantly more accessible. The Xbox Series X comes with a price tag of $499.99/ £449.99/ AU$749 while the all-digital Xbox Series S will set you back $299.99/ £249.99/ AU$499.
An Game Pass Ultimate subscription will cost you $14.99 (opens in new tab) / £10.99 (opens in new tab) / AU$15.95 (opens in new tab) per month, so really, you're paying an extra $10 to $20 per month on top of that for the console. It's a no-brainer if you're looking to upgrade to the newest console offerings from Microsoft, with your first payment due within 30 days of your console shipping.
This is still a credit agreement though, so all the usual (sensible) financial advice and warnings apply. You can find out more in Walmart's FAQs (opens in new tab).