When you can't make up your mind what you want to train, your best bet is opting for a full-body workout. Not only are they time efficient, but they target all the muscle groups in your body so nothing gets left out – perfect! This 25 minute workout contains a mixture of isolation and compound exercises that have your upper body, lower body and core covered. Just grab a pair of dumbbells, your workout shoes and get ready to graft for less than half an hour.
As well as great form of strength training, full-body workouts are also ideal for those looking to lose weight healthily. This is because of the compound exercises these workouts include (exercises that work more than one muscle group, like lunges or squats). The more muscles your body uses to perform an exercises, the more energy is required, so the more calories you burn, simple!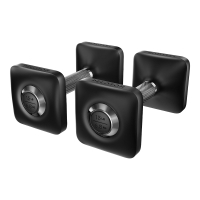 Peloton Dumbbells: were $55, now $38.50 at Amazon
Peloton's dumbbells feature a premium urethane finish, non-slip handles and ergonomic design. The dumbbells come in pairs and are available in sizes 5 to 30lb. Most are on offer for 30% off as part of Amazon's Black Friday sale – don't miss out!
For this workout you've got seven exercises to work through (we've popped the reps below) and it can be completed either at home or the gym. If you're doing it at the gym you'll want to do it near a weight bench, as you'll need it for one of the exercises. Don't have one? We've got a hack below. Once you've completed one exercise, rest for 60 seconds before moving onto the next one. Once you've completed one round, rest for 150 seconds and then repeat two more times. Here's your workout:
Dumbbell thrusters - 8 reps
Four way lateral raise - 8 reps
Reverse lunges - 12 reps each side
All fours dumbbell rows - 8 reps each side
KAS glute bridge - 10 reps / Use a weight bench in gym, at home rest your upper back on the edge of your sofa.
Incline bicep curls - 8 reps / If you're doing this at home, sit on the floor with your knees bent and your back resting at an incline against a wall.
Scissor kicks - 20 reps
Remember, if you don't own two dumbbells it doesn't mean you can't do this workout – just grab two large water bottles instead. Alternatively, if you own any other free weights, like a kettlebell or weight plates, you can use these too.
If you weren't already aware, we love full-body workouts here at T3, so if you liked this one, we've got plenty more! This five-move 15 minute full-body session will help develop your strength, plus it's ideal if you're pushed for time. However, if you've got more time to spare, then try this 30 minute single dumbbell workout – great for building muscle all over.