If your favourite songs are getting a bit samey, that's probably not your musical tastes changing, you might just need a better pair of headphones. Luckily, the Beats Studio Pro are on sale at Amazon.
These noise-cancelling cans are now only $249.95, a saving of over a hundred bucks and the best price we've seen for them on Amazon ever. You can even choose from black, brown or a sleek sandstone color. That's music to anybody's ears.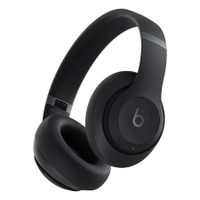 Beats Studio Pro: Was $349.99 now $249.95 @ Amazon
We're big fans of these headphones here at T3. Not only do they look and sound great but they also last an age. 40 hours of battery life with ANC (Active Noise Cancellation) turned off and a very strong 24 hours with it enabled.
If you're looking for a pair of headphones that you can wear every day and rely on, then you've just found them. Not only are the Studio Pro finished to a high quality with a neat folding design, but you'll also be hard-pressed to drain the battery. Without the ANC technology enabled you'll enjoy a massive 40 hours of playback, and with the ANC enabled you'll have 24 hours of undisturbed listening to enjoy. Whichever mode you opt for, you'll be charging your cell phone way before your headphones. If you do run out of juice somehow, just 10 minutes of charging can get you 4 hours of playback. Speedy.
That long battery life sounds tempting for lengthy listening sessions and you'll be pleased to know that the comfortable fit of the headphones serves the same purpose. In our Beats Studio Pro review, we were full of praise for the UltraPlush memory foam describing it as having a "soft, leathery feel but without genuine leather's sweaty, ventilation-blocking properties."
If you're a keen runner or gym rat we might recommend some of the best running headphones instead but for most people, the Beats Studio Pro should sing with everyday use, and look slick doing it.